My Blog
Posts for: May, 2015
By Philip Girgis DDS
May 30, 2015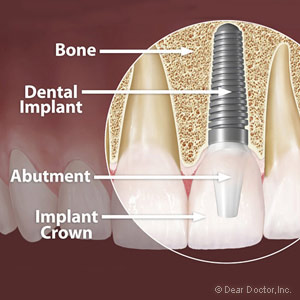 You're considering dental implants and you've done your homework: you know they're considered the best tooth replacements available prized for durability and life-likeness. But you do have one concern — you have a metal allergy and you're not sure how your body will react to the implant's titanium and other trace metals.
An allergy is the body's defensive response against any substance (living or non-living) perceived as a threat. Allergic reactions can range from a mild rash to rare instances of death due to multiple organ system shutdowns.
A person can become allergic to anything, including metals. An estimated 17% of women and 3% of men are allergic to nickel, while 1-3% of the general population to cobalt and chromium. While most allergic reactions occur in contact with consumer products (like jewelry) or metal-based manufacturing, some occur with metal medical devices or prosthetics, including certain cardiac stents and hip or knee replacements.
There are also rare cases of swelling or rashes in reaction to metal fillings, commonly known as dental amalgam. A mix of metals — mainly mercury with traces of silver, copper and tin — dental amalgam has been used for decades with the vast majority of patients experiencing no reactions. Further, amalgam has steadily declined in use in recent years as tooth-colored composite resins have become more popular.
Which brings us to dental implants: the vast majority are made of titanium alloy. Titanium is preferred in implants not only because it's biocompatible (it "gets along" well with the body's immune system), but also because it's osteophilic, having an affinity with living bone tissue that encourages bone growth around and attached to the titanium. Both of these qualities make titanium a rare trigger for allergies even for people with a known metal allergy.
Still, implant allergic reactions do occur, although in only 0.6% of all cases, or six out of a thousand patients. The best course, then, is to let us know about any metal allergies you may have (or other systemic conditions, for that matter) during our initial consultation for implants. Along with that and other information, we'll be better able to advise you on whether implants are right for you.
If you would like more information on the effects of metal allergies on dental implants, please contact us or schedule an appointment for a consultation. You can also learn more about this topic by reading the Dear Doctor magazine article "Metal Allergies to Dental Implants."
By Philip Girgis DDS
May 15, 2015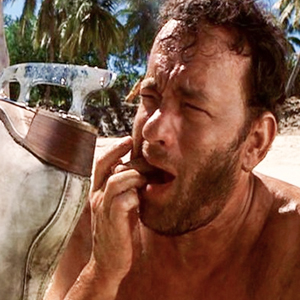 Did you see the move Cast Away starring Tom Hanks? If so, you probably remember the scene where Hanks, stranded on a remote island, knocks out his own abscessed tooth — with an ice skate, no less — to stop the pain. Recently, Dear Doctor TV interviewed Gary Archer, the dental technician who created that special effect and many others.
"They wanted to have an abscess above the tooth with all sorts of gunk and pus and stuff coming out of it," Archer explained. "I met with Tom and I took impressions [of his mouth] and we came up with this wonderful little piece. It just slipped over his own natural teeth." The actor could flick it out with his lower tooth when the time was right during the scene. It ended up looking so real that, as Archer said, "it was not for the easily squeamish!"
That's for sure. But neither is a real abscess, which is an infection that becomes sealed off beneath the gum line. An abscess may result from a trapped piece of food, uncontrolled periodontal (gum) disease, or even an infection deep inside a tooth that has spread to adjacent periodontal tissues. In any case, the condition can cause intense pain due to the pressure that builds up in the pus-filled sac. Prompt treatment is required to relieve the pain, keep the infection from spreading to other areas of the face (or even elsewhere in the body), and prevent tooth loss.
Treatment involves draining the abscess, which usually stops the pain immediately, and then controlling the infection and removing its cause. This may require antibiotics and any of several in-office dental procedures, including gum surgery, a root canal, or a tooth extraction. But if you do have a tooth that can't be saved, we promise we won't remove it with an ice skate!
The best way to prevent an abscess from forming in the first place is to practice conscientious oral hygiene. By brushing your teeth twice each day for two minutes, and flossing at least once a day, you will go a long way towards keeping harmful oral bacteria from thriving in your mouth.
If you have any questions about gum disease or abscesses, please contact us or schedule an appointment for a consultation. You can learn more by reading the Dear Doctor magazine articles "Periodontal (Gum) Abscesses" and "Confusing Tooth Pain."