My Blog
Posts for tag: dentures
By Philip Girgis DDS
September 04, 2019
Generations have depended on dentures to effectively and affordably replace lost teeth. But they do have a major weakness: They contribute to jawbone loss that creates not only mouth and facial problems, but can also ruin a denture's fit.
Bone loss is a normal consequence of losing teeth. The biting forces normally generated when we chew stimulate new bone to replace older bone. When a tooth is missing, however, so is that chewing stimulation. This can slow bone replacement growth and gradually decrease the density and volume of affected bone.
While dentures can restore dental appearance and function, they can't restore this growth stimulation. What's worse, the pressure of the dentures against the gum-covered jaw ridge they rest upon may irritate the underlying bone and accelerate loss.
But there is a solution to the problem of denture-related bone loss: an implant-supported denture. Rather than obtaining its major support from the gum ridges, this new type of denture is secured by strategically-placed implants that connect with it.
Besides the enhanced support they can provide to a denture restoration, implants can also deter bone loss. This is because of the special affinity bone cells have with an implant's imbedded titanium post. The gradual growth of bone on and around the implant surface not only boosts the implant's strength and durability, it can also improve bone health.
There are two types of implant-supported dentures. One is a removable appliance that connects with implants installed in the jaw (three or more for the upper jaw or as few as two in the lower). It may also be possible to retrofit existing dentures to connect with implants.
The other type is a fixed appliance a dentist permanently installs by screwing it into anywhere from four and six implants. The fixed implant-supported denture is closer to the feel of real teeth (you'll brush and floss normally), but it's usually more costly than the removable implant-supported denture.
While more expensive than traditional ones, implant-supported dentures still cost less than other restorations like individual implant tooth replacements. They may also help deter bone loss, which may lead to a longer lasting fit with the dentures. Visit your dentist for an evaluation of your dental condition to see if you're a good candidate for this advanced form of dental restoration.
If you would like more information on implant-supported dentures, please contact us or schedule an appointment for a consultation. You can also learn more about this topic by reading the Dear Doctor magazine article "Overdentures & Fixed Dentures."
By Philip Girgis DDS
February 03, 2018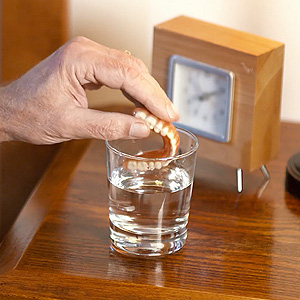 Dentures can be an effective and affordable solution for people who've lost all their teeth. With them a person can once again eat nutritiously, speak clearly and smile confidently — and with regular care they can last for years.
As part of that ongoing care, be sure you consider one important thing with your dentures: you may want to take them out at night while you sleep. If you do you'll lessen your chances of developing these 4 health problems.
Accelerated bone loss. Traditional dentures are fitted to rest securely on the gums. This, however, creates pressure on the gums and the bony ridges beneath them that can contribute to bone loss. Wearing dentures around the clock usually accelerates this process, which could eventually lead to among other problems looser denture fit and discomfort.
Bacterial and fungal growth. Microorganisms that cause oral diseases find conducive breeding spots on the underside of dentures while they're worn in the mouth. Studies have found that people who continuously wear their dentures are more likely to have bacterial plaque and oral yeast than those that don't.
Potentially dangerous infections. Bacterial and fungal growth increases your risk of oral infections that could affect more than your mouth. A recent study of elderly nursing home residents found those who wore their dentures during sleep were over twice as likely to develop serious cases of pneumonia requiring hospitalization. It's believed bacteria harbored on the dentures can pass from the mouth to the lungs as a person breathes over them while they sleep.
Blocked salivary flow. During the night our salivary flow naturally ebbs; wearing dentures while we sleep could cause denture stomatitis, in which the tissues covered by a denture (particularly along the roof of the mouth) become inflamed and infected with yeast. It's often accompanied by angular cheilitis or cracking at the corners of the mouth that becomes infected by the same yeast.
Wearing your dentures while you sleep contributes to conditions ranging from irritating to life-threatening. To prevent such problems clean your dentures as well as the rest of your mouth regularly — and talk to your dentist whether you should leave them out when you go to bed.
If you would like more information on denture care, please contact us or schedule an appointment for a consultation. You can also learn more about this topic by reading the Dear Doctor magazine article "Sleeping in Dentures."
By Philip Girgis DDS
February 03, 2016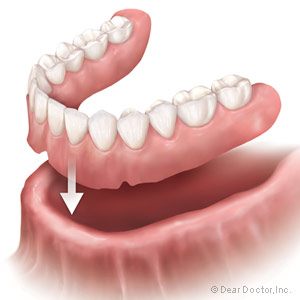 Since as many as 26 percent of older U.S. adults have lost all their teeth, there are a large number Americans who wear full removable dentures, also known as false teeth. You may be one of them.
How much do you know about dentures? See if you can answer the following questions connected with lost teeth and dentures.
Which word refers to the loss of all permanent teeth?

Atrophy
Prosthetic
Edentulism
Periodontal

What is the name given to the bone that surrounds, supports, and connects to your teeth?

Periodontal
Metacarpal
Tibia
Alveolar

What tissue attaches the teeth to the bone that supports your teeth?

Periodontal Ligament
Periodontal Muscle
Parietal Ligament
Achilles Tendon

When a person loses teeth, the stimulus that keeps the underlying bone healthy is also lost, and the bone resorbs or melts away. Pressure transmitted by dentures through the gums to the bone can accentuate this process, which is called

Dystrophy
Atrophy
Hypertrophy
None of the above

A device that replaces a missing body part such as an arm or leg, eye, tooth or teeth is referred to as

Robotic
Imaginary
Exotic
Prosthetic

When teeth have to be extracted, bone loss can be minimized by bone grafting. Bone grafting materials are usually a sterile powdered form of

Allograft (human tissue)
Xenograft (animal tissue)
Both
Neither

Wearers of full dentures must re-learn to manipulate the jaw joints, ligaments, nerves, and muscles to work differently in order to speak, bite, and chew. The name for this system of interconnected body mechanisms, originating with the root words for "mouth" and "jaw," is

Boca biting
Stomatognathic
Periodontal
None of the above

A type of plastic that is artistically formed and colored to make prosthetic teeth and gums look natural is called

methyl methacrylate
beta barbital
rayon
polystyrene

Success in denture wearing depends on

The skill of the dentist
The talent of the laboratory technician
The willing collaboration of the patient
All of the above
Answers: 1c, 2d, 3a, 4b, 5d, 6c, 7b, 8a, 9d. How well did you do? If you have additional questions about full removable dentures, don't hesitate to ask us.
Contact us today to schedule an appointment or to discuss your questions about dentures. You can also learn more by reading the Dear Doctor article, "Removable Full Dentures."