My Blog
Posts for tag: nutrition
By Philip Girgis DDS
February 26, 2018
Eating is one of the pleasures — and necessities — of life, but people who suffer from temporomandibular joint disorders (TMD) may find eating no pleasure at all — and they may not be eating the right nutritional balance of foods.
TMD is a collection of conditions that affect the jaw joints, connecting muscles and other related facial structures. If you've been diagnosed with TMD, you're probably not only acquainted with severe pain, but also difficulty opening your jaw as widely as normal. This can make it difficult to chew certain foods.
There are a number of effective treatments for TMD, including thermal therapy (hot or cold packs), joint exercise, medication or surgery (as a last resort). But these treatments often take time to make a noticeable difference. In the meantime, you may still need to change what and how you eat to ensure you're getting the nutrients your body needs.
The overall strategy should be to soften and reduce the chewing size of your food. With fruits and vegetables, you'll want to peel and discard any hard or chewy skins, and then chop the fruit flesh into smaller pieces. Steam or cook vegetables like greens, broccoli or cauliflower until they're soft and then chop them into smaller portions. You might also consider pureeing your fruit (and some vegetables) to make smoothies with ice, milk or yogurt, or vegetable-based soups.
Treat meat, poultry or seafood in much the same way, especially biting sizes. Besides cooking meats to tenderness, include moisteners like broths, gravies or brazing liquids to further make them easier to chew.
Dairy foods are an important source of nutrition: eat milk-based products like yogurt or cheese as much as you can handle. If you have problems with these or also nut butters, then consider meal replacement beverages like instant breakfast or whey protein beverages.
And don't forget whole grains. Although some can be hard to chew, you can prepare them in hot cereal form (like oatmeal) to tenderize them. You can also prepare thin bread toast and cut into smaller pieces.
Hopefully, your treatment will bring your TMD symptoms under manageable control. Until then (and after, if need be) adjust your diet to eat the foods that keep you healthy.
If you would like more information on maintaining a healthy diet with TMD, please contact us or schedule an appointment for a consultation.
By Philip Girgis DDS
March 01, 2017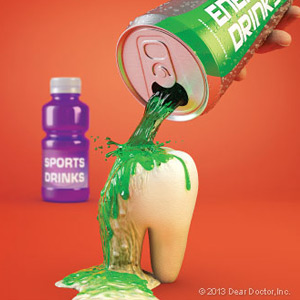 Sports drinks have been widely touted as an ideal way to replenish carbohydrates, electrolytes and, of course, fluids after a strenuous event or workout. But the mixtures of many popular brands often contain acid and added sugar, similar to other types of soft drinks. This can create an acidic environment in the mouth that can be damaging to tooth enamel.
Of course, the best way to replenish fluids after most strenuous activities is nature's hydrator, water. If, however, you or a family member does drink the occasional sports beverage, you can help reduce the acid impact and help protect tooth enamel by following these 3 tips.
Avoid sipping a sports drink over long periods. Sipping on a drink constantly for hours interferes with saliva, the bodily fluid responsible for neutralizing mouth acid. But because the process can take thirty minutes to an hour to bring the mouth to a normal pH, saliva may not be able to complete neutralization because of the constant presence of acid caused by sipping. It's best then to limit sports drinks to set periods or preferably during mealtimes.
Rinse your mouth out with water after drinking.  Enamel damage occurs after extended periods of exposure to acid. Rinsing your mouth out immediately after consuming a sports drink will wash away a good amount of any remaining acid and help normalize your mouth's pH level. And since water has a neutral pH, it won't add to the acid levels.
Wait an hour to brush after eating. As mentioned before, saliva takes time to neutralize mouth acid. Even in that short period of time, though, acid can soften some of the mineral content in enamel. If you brush during this "soft" period, you may inadvertently brush away some of the minerals. By waiting an hour, you give saliva time not only to neutralize acid but also restore mineral strength to the enamel.
If you would like more information on sports and energy drinks and their effect on dental health, please contact us or schedule an appointment for a consultation. You can also learn more about this topic by reading the Dear Doctor magazine article "Think Before you Drink."
By Philip Girgis DDS
October 16, 2016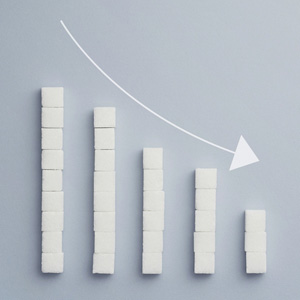 Tooth decay doesn't appear out of nowhere. It begins with bacteria, which produce acid that softens and erodes tooth enamel. Without adequate enamel protection, cavities can develop.
So, one of our prevention goals is to decrease populations of disease-causing bacteria. One way is to deprive them of carbohydrates, a prime food source, most notably refined sugar. That's why for decades dentists have instructed patients to limit their intake of sugar, especially between meal snacks.
Ironically, we're now consuming more rather than less sugar from a generation ago. The higher consumption impacts more than dental health — it's believed to be a contributing factor in many health problems, especially in children. Thirty years ago it was nearly impossible to find a child in the U.S. with type 2 diabetes: today, there are over 50,000 documented juvenile cases.
Cutting back isn't easy. For one thing, we're hard-wired for sweet-tasting foods. Our ancestors trusted such foods when there was limited food safety knowledge. Most of us today still have our "sweet tooth."
There's also another factor: the processed food industry. When food researchers concluded fats were a health hazard the government changed dietary guidelines. Food processors faced a problem because they used fats as a flavor enhancer. To restore flavor they began adding small amounts of sugar to foods like lunch meat, bread, tomato sauce and peanut butter. Today, three-quarters of the 600,000 available processed food items contain some form of added sugar.
Although difficult given your available supermarket choices, limiting your sugar intake to the recommended 6 teaspoons a day will reduce your risk for dental and some general diseases. There are things you can do: replace processed foods with more fresh fruits and vegetables; read food labels for sugar content to make better purchasing decisions; drink water for hydration rather than soda (which can contain two-thirds of your daily recommended sugar allowance), sports drinks or juices; and exercise regularly.
Keeping your sugar consumption under control will help you reduce the risk of tooth decay. You'll be helping your overall health too.
If you would like more information on the effect of sugar on health, please contact us or schedule an appointment for a consultation. You can also learn more about this topic by reading the Dear Doctor magazine article "The Bitter Truth about Sugar."